Walter L. "Butch" Bates, 73, met his Lord and Savior on September 22, 2022. He was a beloved husband, father, grandfather, brother, cousin, and friend to all that knew him. Butch loved the Lord, his family, and his church.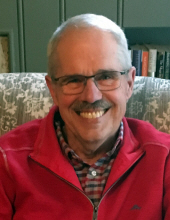 Butch was born to Robert and Shirley Bates on March 25, 1949, in Dayton, Ohio. As a child, he always had an interest in aviation. After graduating from Greenon High School, he took this interest and enlisted in the Army where he learned how to fly helicopters. Butch was a decorated veteran who served in Vietnam and spent many years in the Ohio National Guard. He earned four distinguished flying crosses during his active duty. His love of flying guided him into a career as a helicopter pilot for WTHR in Indianapolis, from where he retired. One of his favorite flying memories was being able to fly President George H.W. Bush.
Butch was passionate about sharing the love of our Lord with others and was a Deacon in his church, First Baptist Church, in Fredericktown, Ohio. A loyal servant to God, Butch spent many hours dedicating his life to helping others. Now that he has been welcomed into the arms of our Lord, we should remind ourselves that while this is the end of his time on this Earth, it's the beginning of an eternal and beautiful journey for Butch.
Butch is survived by his loving wife, Nancy, whom they shared 32 wonderful years together, his siblings Doug and Shelly, his children Heather (Kipp), Misty (Mike), Curtis (Angie), and Kristen (Erik), his grandchildren Jordan (Abby), Madison (Eddie), Rachel, Addison, and Avery, and numerous nieces, nephews, and cousins. Butch was greeted in Heaven by his parents, Robert and Shirley, and his in-laws, Joe and Beverly, and we are sure by a lot of his heroes.
A celebration of life with military honors will be held October 14, 2022, at First Baptist Church, 22 E Sandusky St., Fredericktown, OH 43019. Visitation will be from 11:00 a.m. – 1:00 p.m. with a service immediately following.
In lieu of flowers, memorial contributions can be made to First Baptist Church in Fredericktown, Ohio.
The Snyder Funeral Home of Fredericktown is honored to serve the family of Walter L. "Butch" Bates.
To share a memory or leave a condolence for the family, visit www.snyderfuneralhomes.com