————————Rick's most recent messages are posted first.—————————
Sent: Friday, February 02, 2007 6:47 AM
Subject: Friday Update
Well, as we draw closer to the end I find myself struggling to find time to email. OTEMPO continues as a decent pace for us with more short notice missions than we saw the first 4 months. Actually, in the first 4 months we didn't see any short notice missions so it is safe to say we have had a 100% increase. Stats are cool. Down to 35 days remaining for 4 of us since 3 will stay back to brief up the new detachment rolling in. Since we are grounded for 28 days upon return, it makes sense for Dan and I get be the first back to we are able to start flying missions again. That is our story and we are sticking to it.
Mike and I had a nice day flight to Addis, Ethiopia and spent the 6 hours on the ground at the Embassy Coordinators residence. Pretty nice house the 4 Coordinators (CCE's) live in. This is a pretty hectic thankless job as you are constantly dealing with short notice diplomatic clearances and escorting personnel on a mission through the airport. Every time we land at an airport, these guys are there to escort us through customs, which we usually just bypass, and then out of the airport. At some places they assign us a local driver to get around, but in Addis is has to be a CCE. Their house seems to be in the middle of a ghetto, but this is actually one of the nicer neighborhoods. Mike and I explored on foot for a few hours to kill the time and found a coffee shop, decent restaurant and a shack selling DVD's for $1. Mike bought one and after putting it in realized it was indeed the new James Bond movie. However, it was taken with a small camcorder hidden in the guy's jacket and at times you get a real good view of the lining with muffled sound. I guess someone suspicious was walking by.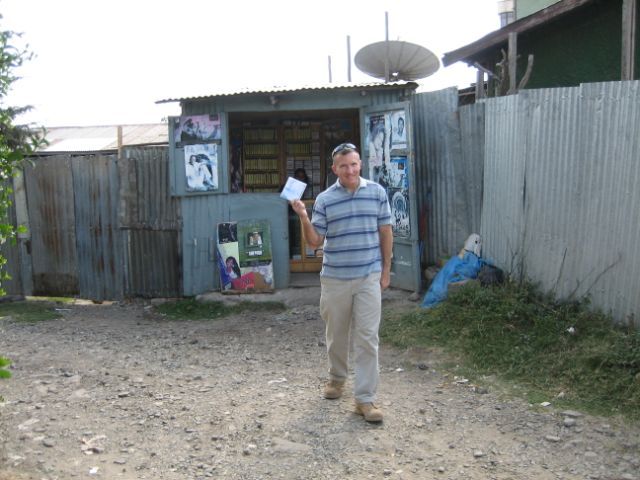 The construction was ½ block from their house and I stopped to watch them for a little bit. Pretty fascinating, but they probably thought I was insane. Some white guy standing in the alley watching them work. The gang plank you see going up is sticks of wood tied together; I also thought the pulley system was cool. Typically we drink directly from the bottle and if you have to use a glass we avoid the ice. You can see the residue on the coke bottle but it is on the inside.
Some kids carried our bags of coffee back to the house for us; luckily I had some beanie babies with me to hand out. The one little boy was very cute and kept kissing his. Giving out stuff can be tricky as it can create a mini riot so you have to be discreet and quick.
Some kids carried our bags of coffee back to the house for us; luckily I had some beanie babies with me to hand out. The one little boy was very cute and kept kissing his. Giving out stuff can be tricky as it can create a mini riot so you have to be discreet and quick.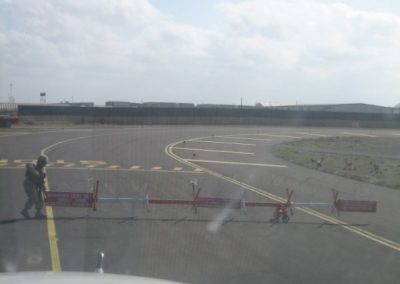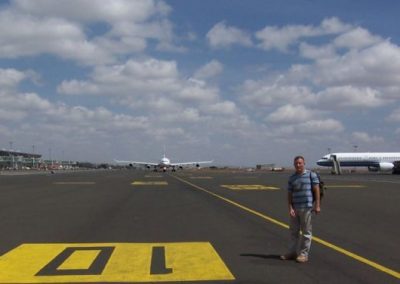 Take care, Rick C26 Pilot / Operations Officer CJTF HOA DSN 318-824-4617
Sent: Monday, January 22, 2007 1:15 PM Subject: Mon 22 Jan Well, another week and another fabulous trip. Dano and I finally got the chance to fly together and took an overnighter to Nairobi, Kenya. This is the second trip for both of us but we stayed at a different place, Windsor Golf Club. Another beautiful resort just on the outskirts of the city. Of course it is situated on a golf course that seemed to be in very good shape. $60 to play and a caddy is included, personally I don't need a witness nor the extra pressure. They do have a running trail that winds through the course and the "jungle" surrounding the fairways which I took advantage of. I put it in quotes since we were just on the outskirts of the city but the course winded through the trees very well and rarely could you see another fairway from the one you were standing on. I was nervous at times as there were few people out there and thoughts of a snake or a man with a machete entered the space between my IPOD. (Ok, Ashley's IPOD but possession is 9/10th of the law) Most people who envision men with machetes are paranoid but when you have a guard armed with an AK-47 at the entrance of the running trail who writes your name and time departed on a clipboard, it does make your mind wander. Nairobi also sits at 5400 elevation, just a tad higher than Denver. Halfway through the run it was apparent I had set too ambitious of a pace. I was also pleasantly surprised and disappointed I had left my camera behind as I discovered several troops of monkeys along the train and fairways. Not too disappointed on the camera part as I fear I would have discarded it along the trail as the extra weight would have been a burden. I meant too ask if the monkeys ever took a ball from a wayward golfer but as I finished the run the guard seemed a little temper mental so I decided to "Move along folks, nothing to see hear." Our rooms was actually a stand alone cottage a short distance from the main hotel on the first fairway. It had an English Victorian feel with 2 bedrooms on either side separated by a sunken living room with a fireplace and dark wood floors. As you can see Dan is contemplating if we should defect or return to Djibouti.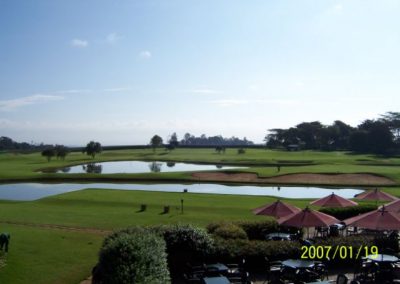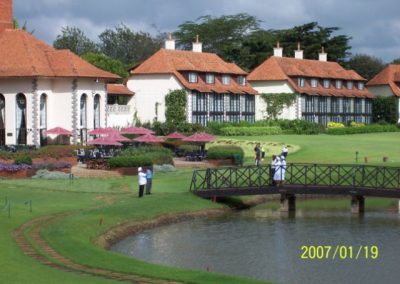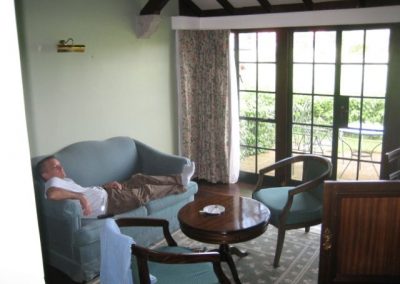 Yesterday we entered into a Dodge Ball tournament here on camp. OK, Mike entered us and talked 2 Air Force pilots in the middle into playing. We lost both games but actually made a decent showing against our opponents. Both teams were young Marines. The "good showing" was none of us broke anything and only one threw up afterwards. We DID have our "Minimal Care" T-shirts and specially made head bands. Maybe we should have trained with wrenches the night before, because if you can dodge a wrench, you can dodge anything. (Quote from the movie "Dodge ball") Our team name was actually stolen from Ft Benning which was on a sign outside a medical clinic. I still wonder if it was a description of the attitude of the medical folks inside or the degree of help they were willing to give your injury. "Here is a band aid, now take your bleeding hand up the road to the hospital".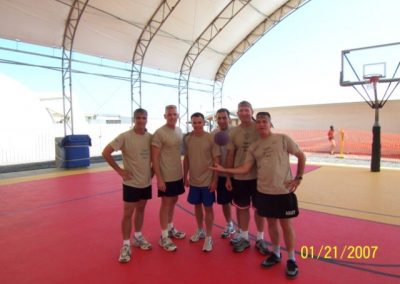 I can't help but include this last shot taken during the preflight. There is some validity to the old airline method of screening flight attendants based on physical attributes, but we are at war so I suppose some sacrifices have to be made. Mike is stocking the galley with soft drinks, but we rarely tell the passengers they are there. If we did, we stand the chance of not having any for ourselves. It is uncanny the resemblance between Mike and my younger brother.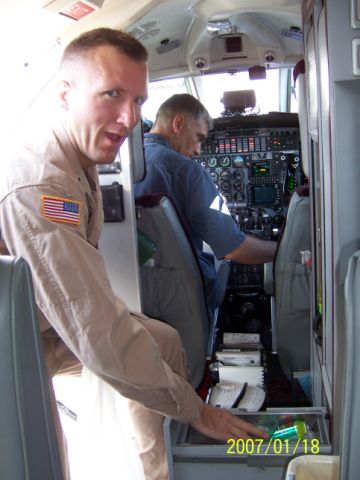 Lastly, on a serious note, I am sure most have heard about the UH-60 Black Hawk "crash" that occurred Sat afternoon in Iraq. CNN is reporting it as a shoot down incident. Although I can't elaborate at this time, I did have a professional friendship with one of the 12 casualties on board. Please take a moment to pray for the soldiers involved and their families. God Bless, Rick C26 Pilot / Operations Officer CJTF HOA DSN 318-824-4617
Sent: Saturday, January 13, 2007 7:45 AM Subject: Friday, not even close to Sunday Hi. I suppose with the numerous emails to me about the recent activities and the phone calls to Vicki about if she has heard from me lately, I'll start with the political situation here. First, we have seen 3 articles in the Times talking specifically about the missions ongoing here and all 3 were inaccurate. It must be the other stories printed are getting correct to support their "100% correct AND unbiased" claim. We (The United States) did participate in a strike on senior AQ operatives in Southern Somalia with AC-130 aircraft. (This is an armed C-130 that sprays about a billion rounds in 10 seconds all in a 5 meter area. Don't upset old Spooky). We were acting on time sensitive information along with Ethiopia. As far as me personally, our aircraft is rear support only and can't engage in tactical operations. The Jan schedule is pretty robust and we had several short notice missions. Last week John and I received a same day mission to the Seychelles. We received the call at 1100 and were ready to depart by 1PM, but had to wait on the diplomatic clearance which came through at 1600. After refueling in Mombassa, we landed at 0130 AM. More good news greeted us as the island was still full from the holidays and the embassy could only get us 1 room to split. Didn't seem like a big deal at the time since we were both exhausted, but at 8 AM John had been up for an hour and either couldn't take it anymore or his alarm watch really did malfunction. I think this is payback for all the times I have woken my family up on vacation by banging things around so we could get moving. 10 hours after we landed we were back in the plane heading back to Djibouti, my body is still recovering.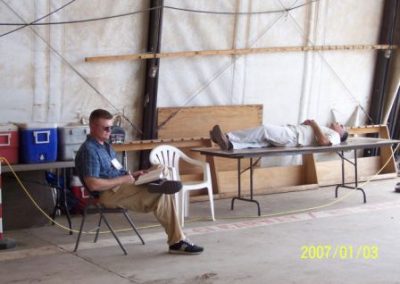 2 interesting things did happen while on the ground. The hotel was a good 30 minutes from the airport and on the way we passed a white owl in the road. The cab driver stopped and proceeded to head back. John and I both thought he wanted to show us the owl and I interjected to him that we were pretty tired and needed to get to the hotel. Turns out, he explains the government will pay 100 rupies ($20) for the carcass as they have an overpopulation of owls. He said you have to be careful as they will attack you when you approach and have sharp talons. Luckily the owl took off while we were turning around, still wondering if he planned on having me do the honors for him. The other item happened on the way back to the airport in the morning. Mind you, I was pretty tired still and after 10 minutes of being tossed around the back seat, I took my wallet out and put on my lap. At some point it must have slid off onto the seat and when we got to the chaos of the airport I didn't notice. 30 minutes later I finally realized and frantically returned to the front of the terminal hoping he might still be in the taxi line. Yes, I felt like an amateur traveler at this point. A group of 4 drivers asked me if they could help me and after explaining my situation one of them pulls out a cell and calls someone. I thought it might be the company office, but turns out he remembers when I got out and which taxi driver drops us who is a friend of his. The driver was actually on his way back to the airport with my wallet. Too weird. BTW, someone asked if my passport was getting full of stamps. Very few to this point, we have an ID badge with our military ID and with a P-Touch machine typed a label saying "Flight Crew". We bypass most of the immigration stations and baggage screening by walking briskly by the security holding the ID up. Doesn't give me a strong sense of security but does save time. Guilt, gratitude, guilt, gratitude. Baja, an F-16 Major assigned here to schedule our missions, purchased 100 soccer balls to give away mainly due to a fund raiser by his squadron back home. The plan was for us to jump on a CH-53 helicopter and take a 10 minute across the bay to a Seabee project in the town of Fadjoura. They are building a new girls dormitory at the school there. Recent activities precluded the Ch-53 portion which left us the option of joining in a re-supply convoy with the Seabees. Nothing like a 3 hour one way convoy around the bay to kill the day. The Seabee's make this run weekly and use 8 – 10 vehicles. When it is time for a rest stop, they simply pull over and set up some force protection. Girls go to the left side of the road, boys hit the right side. Weird, but we were never asked to help with the "force pro".
That's it for this week, (or 12 days) Rick C26 Pilot / Operations Officer CJTF HOA DSN 318-824-4617
Sent: Wednesday, January 03, 2007 3:40 AM Subject: The New Year Well, I guess a fitting start would be Happy New Year. New Years Eve was about what you would expect, we went to the Cantina and cheered the new year in with numerous hand shakes at midnight. Not quite like home but close. We had both days off which is always nice since you can wear civilian clothes. The bowl games didn't start until 7:00 PM at night (we are 8 hours ahead) but we were able to watch a couple of the late ones in the early morning. Weird having breakfast and watching Oklahoma Vs Boise State. But enough about that boring stuff, on to the exciting Africa Adventure. Last Friday Dan and I signed up for a MWR (Morale Welfare & recreation) trip to Lake Assal. Hmmm, education or adventure, education or adventure? Let's go with education first. Lake Assal is about 60 miles from here towards Ethiopia. The bus trip takes about 2 hours as none of the roads are more than 2 lane nor go straight for any appreciable distance. The local driver did go 120 KHM (75 MPH) which I suppose in theory helps get one there faster. The lake is the lowest point in Africa at 510 feet below sea level and is the saltiest lake on earth. No rivers flow out of it which makes it 10X saltier than the ocean. It is also known as the hottest place in Africa and summertime temperatures are steady at 52C or 125F. This helps in creating a huge salt pan of evaporated water which is still mined by the local Afar people. The 2 pictures show Dano standing on the salt pan with the lake to the left and small inlet behind him. The locals set up tables behind him and sell Geodes and salt crystallized rocks. Geodes are formed when a gas bubble forms a cavity in a lava bed and the minerals inside crystallize. The tables also serve as a house as the sellers live out there full time.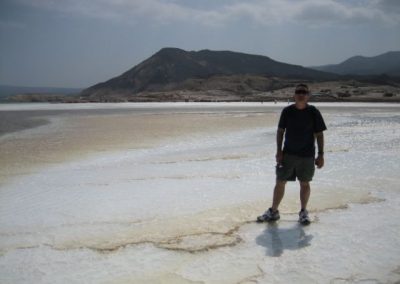 About a mile away we stopped at a hot spring. This was pretty fascinating as one pool was fed by an underground hot spring the other by an over ground spring. The hot spring pool was scalding hot water that you could not keep your hand in for more than a few seconds. Nothing is marked with a sign so you have to figure it out for yourself. A French mom who was there found out the hard way but trying to wade through a low spot in her flip flops. I can't help but chuckle as I type this with the memory, so much for that New Years resolution. Hey, the husband laughed also, but I have to think he now regrets that impulse. The first picture is of the hot spring portion, otherwise known as the "Don't cut through here" spring. The other one is where the 2 pools meet, kind of weird when you put one hand in each with the temperature extreme. I can only imagine the amount of times in a given day someone isn't surprised by the temperature when they step in. While there 3 other French families were there with their kids. I can hear Teresa K. wondering how many kids are burned by over zealous parents. "Come on, Andre. It is just water, nothing to be afraid of". Again, a sign even in a third world area doesn't seem to be too much to ask, but I have been accused of being too safety conscious. By the way, strapping toilet lids down with young kids is just good common sense and not "safety paranoia" as I have heard whispered behind my back.-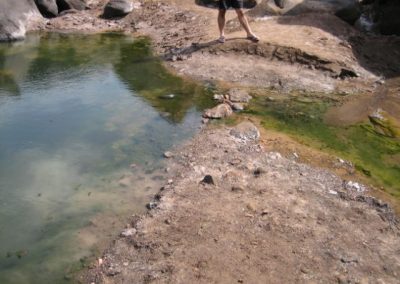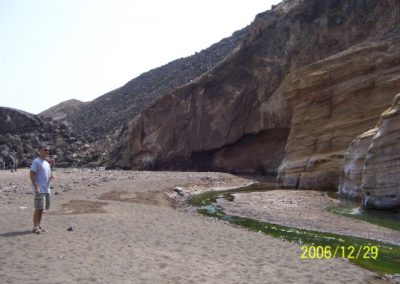 Now for the adventure part. About 45 minutes into the trip we were hurling our bus through a small village. As the driver was negotiating a hairpin turn up a fairly steep hill, he missed the downshift and we came to a stop. After a few seconds, I realized he wasn't holding the shifter and came forward to ask if he was OK. As he was clutching his heart with his right hand and his left arm hanging limp in his lap, it was obvious he was having a heart attack. I tried to motivate him by reminding him cars were actually passing us and we should get moving less we lose the "Unnamed Race". OK, I am kidding. I yelled back if we had any medical personnel and received the deer in the head light look. I then yelled if anyone knew how to drive the bus as an 18 wheel fuel truck screamed past us going the other way making us all realize we needed to move off this curve. Again, vacant looks but one guy said he'd like to try. Seemed better to die with someone I knew driving so Dano said he would drive. As I helped the driver out of the seat, Dano jumped up front which was good as the brake wasn't set and we were starting down the hill. At the top of the hill we found a French military base and parked by the front gate. The French doctor examined our driver, a local Djiboutian and said he did have a minor heart attack brought on by ghat. Ghat (pronounced cot) is a local drug many Djiboutian chew at mid day. It is only good for a few hours and is flown in each day. The civilian MWR staff launched a rescue mission and a quick 1 ½ hours later a van showed up with a new driver and medic. We did make the new driver do 20 jumping jacks before we set off again, but he was a little sore with us since he is an American and doesn't even smoke. He had a valid point so after 15 we told him he could stop. Two good points, the driver is OK and Dano now knows he has a future driving tour buses OK, picture time. The 1st picture is in front of the French compound. Friday is a day off for the French, (not for us but Dan and I told everyone we were going to the gym) and apparently they have to park outside the gate while the service member goes in to sign out for the day. The local kids would approach the car and try to sell them the item wrapped in a cone shape, not sure what was inside it. 2nd & 3rd picture. We didn't see any gas stations as we were driving but would see these barrels by the side of the road with a small hut close by. SUV's would pull up and buy fuel from the barrel. 4th picture. Numerous camels were seen, this picture was snapped at 100 KMH. I suppose the bus driver has seen his fill of camels as we didn't slow and I think our side view mirror hit it. (By the way, most of these pictures are taken just below the speed of sound, I need to send some praise to the folks at Sony). 5th picture. Very few guard rails in Africa, but on this trip we spotted several sections with some portion of them lying in the road. Lastly, these rock huts are fairly common away from the cities. You see them in some pretty remote locations, makes you wonder how they survive.
Sorry if your email doesn't embed the pictures in the text area and instead places at the top as attachments. If so, think of it as a matching game to link the picture to the description. God bless, Rick C26 Pilot / Safety Officer CJTF HOA DSN 318-824-4617
Sent: Monday, December 25, 2006 6:19 AM Subject: Christmas 2006 Hello All. I trust everyone is having a great Christmas. Hopefully nobody reads this email today and if it is going to your work email, you don't see it until the 2nd or even the 3rd. Our Christmas here is going well. We only have 10 people total in our unit (6 pilots, 1 scheduling NCO and 3 contractor civilian mechanics) and 2 of the pilots, John and Dano, are on a 3 day mission. It is truly terrible that they have to work on Christmas day since they fly back this evening, but then again they were at the Seychelles islands. Difficult to get any sympathy for them at this point, isn't it? We are also down another man as Mike flew back to the states on emergency leave. His wife is having a baby and there were some complications but it appears all is on track now. Now we are crossing our fingers that the baby actually comes before he has to come back. Christmas Eve we took 2 gators and left the compound to go to this island just off the coast, roughly 2 miles from camp. The Marines patrol out there so you don't need to sign out on "liberty", Navy talk. The island is about a half mile from the shore but in high tide it is only 2 feet of water and low tide you can drive a gator across. We did see 6 camels which chased Joe and Mike (mechanic) who headed over during high tide with out a gator. Rodger and I showed up later and elected to take a gator after hearing their thrilling adventure with the spitting camel. Basically they ran away. We also did some swimming by jumping from a 40 foot cliff similar to the divers in Acapulco, Mexico. In the photo though it only appears to be 8 feet, photos are weird that way. It also gives the impression Mike and I have grey hair.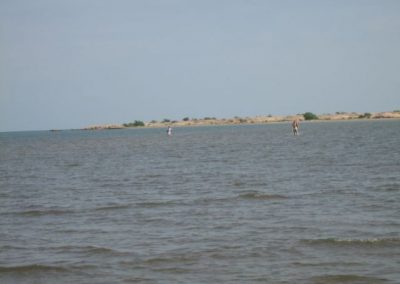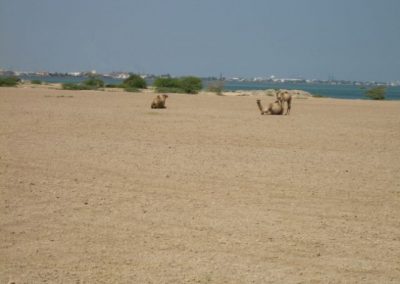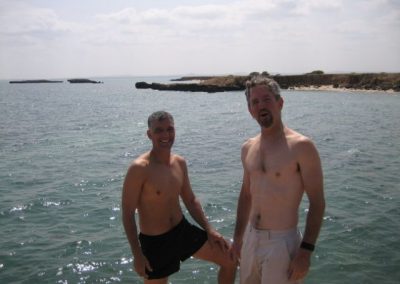 Last night Joe and I went into town to listen to our camp choir sing at a new "5 Star" hotel, the Hotel Kabinski. Strange name for Africa but very nice. We went with the guy who runs the Admiral's security team and have decided that I will only go on liberty now with him. Not only do you not have to walk a mile to get to the front gate, more importantly you are spared the scary cab ride experience. Coming back on is also a pleasure as the Marines are notified 2 minutes out and lift the series of barricades and you breeze right through. Usually the sign out, walk to the front gate, ride the scary cab, return back through security, walk back to the Quarterdeck (more Navy talk) and sign in makes going into town not worth the effort. The difference in procedures is about the same level as Les Wexner's personal plane breaking and him having to fly coach. Perish the thought. Ok, closer to home, me having to leave the CLU and return to tent life. We also had another overnight this week to Entebbe, Uganda. Brief history lesson. This is the airport that in 1976 4 terrorists, 2 from Palestine and 2 from Germany diverted a plane heading to Paris with 248 passengers. The Israeli and Jewish passengers were held for 6 days and were freed by Israeli commandos. You can still see the old terminal riddled with bullet holes. Anyways, we stayed at Kampala which is about 45 minutes away. As luck would have it the Embassy driver assigned to us had the same Mario Andretti syndrome as the cab drivers but his car actually had power to execute his perceived image. I did get a picture of the speedometer as it crested 100 KPH swerving in fairly heavy traffic. We kept the conversation in the car to a minimum, needless to say. Along the way we passed some road construction which is interesting since they will shut 1 lane down, but no one actually slows down. Cars head towards each other at about the normal speed and then swerve just a little to let each other pass. They also don't have orange barrels and use tree limbs instead to keep folks off. The alternative taxi here is the moped. Since they can weave in and out of the traffic that many times is a stand still, many people will hop on the back of a moped. I saw several where the driver had 2 passengers scrunched back there. Most of the women would ride side saddle which is remarkable feat of just being able to hang on.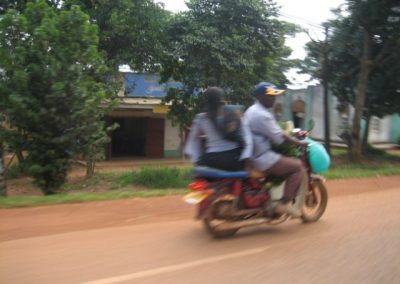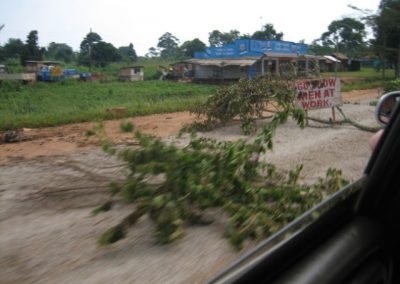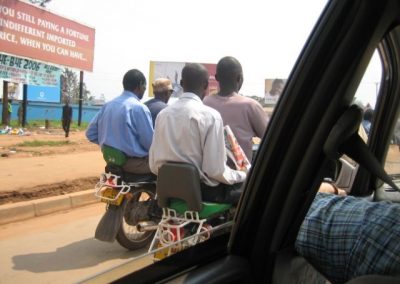 We stopped along the way at a wood carving shop the Embassy guy recommended. Amazing the quality of work they do by hand. In the photo you can see him working on the back part of a chair and to his right is a wall hanging that is about 4 ft X 5 ft. You can see the outline of Africa which they can inscribe your family name and on the outside of it is a bunch of different animals, lions, elephants, giraffes… This piece goes for $60 – $70. Hotel was very nice. In fact, I'd rate this one as the best hotel I have ever stayed in. The hotel is only 6 months old and the service was extraordinary. The turn down service included rose petals scattered at the foot of my bed and they lightly scented my robe with a nice vanilla lilac scent. This is not something you typically hear from someone earning a combat patch. Well, here is the Christmas dinner photo less our 3 wandering pilots. After Thanksgiving and now Christmas, I am curious how they will decorate for Valentine's day. We hope to miss the St Patty's day festivities.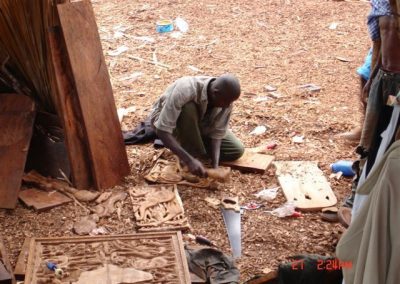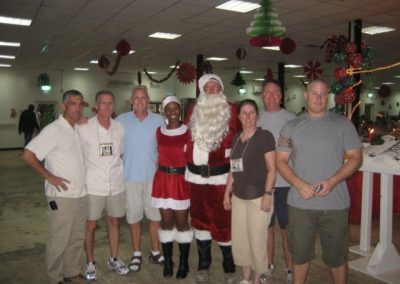 God bless, Rick C26 Pilot / Safety Officer CJTF HOA DSN 318-824-4617
Sent: Monday, December 18, 2006 4:14 AM Subject: 18 Dec All, Well, 12 weeks to go but more importantly, we only have 7 more shopping days until Christmas. Ha. It is comforting to realize there are certain parts of the Season we don't miss here and the crazy shopping and crowded malls are definitely at the top of the list. It has been an extremely slow week here. It takes 2- 3 weeks to get the diplomatic clearance to either fly over or land at the countries here which doesn't allow us the chance to pickup short notice missions as we do in the states. If a mission cancels as 2 of mine have this month, it is unlikely that hole in the schedule will get filled by another. Translation is, I have sat since 30 Nov trying to balance how much I can eat of the baked goods that have arrived with the calorie intake / exercise required negating the effects of said baked goods. Pretty much the same thing we do over in the states. So far, the baked goods are winning but that is what New Years resolutions are all about. Speaking of which, I think we set our standards to high on the resolutions. This year, my plan is to lower them somewhat. I think the top of my list will be a trip to the zoo, I can bust that one out the first couple weeks we get home and have the remaining 8 months guilt free. Woo Hoo. It really has been a slow week so I'll cut this one short; maybe even take next week off for the holidays. Thanks again for the items sent and the email updates from folks. It is nice staying in touch with local events as opposed to just "punching out" for 6 months. Vicki sends the Gahanna news and reading about the Mill St closure and planned Morse Rd SR 62 turn around intersection again reminds me of things I don't miss. Or better yet, things I am glad to miss. Seriously, reading articles about Ethan Ghiloni and John Mayer winning their GSA soccer tourney, the Thanksgiving lights parade, and a house selling up the street form us is good stuff. Better yet, hearing in emails how some of the kids are doing at school or for their first experience serving at Mass. It will be weird to come home and see all of Ashley's friends up there acting like pros!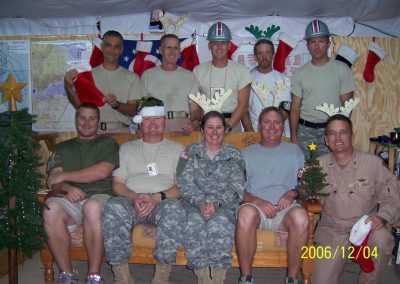 Take care, Rick. PS Ashley, Happy 12th Birthday today. I agree we should keep it low key this year. C26 Pilot / Safety Officer CJTF HOA DSN 318-824-4617
Sent: Monday, December 11, 2006 5:51 AM Subject: Africa 11 Dec Hello. Another week completed 15 more to go. Woo Hoo. We are at the 55% mark but I think the general feeling is to just get by Christmas and we are home free. CLU life is good. I don't giggle out loud anymore but am pleasantly happy when I walk through the door. Similar feeling when we moved several years back actually, kind of sad when you think about it. The plane was still "down" all week waiting on a part which left us all scrambling trying to find a way to not go crazy. Standing at the FEDEX counter and then walking to the maintenance tent did not speed up the process, although we did try it none the less. Wed 4 of us went on a tour of the USS Ramage, an aegis class destroyer. After seeing the living conditions of the 290 sailors on board, I could easily return to the tent and be perfectly content. The young Ensign who guided us could see the incredulous look on our faces when we saw the enlisted berthing area and quickly ushered us to the officer staterooms. I think she was a little miffed when the same expression remained on our face when we saw how "nice" the officers lived. I quickly tried to "oohhh" and "aaahh" but the damage was already done. Luckily they have 3 treadmills on board with a strange assortment of weight equipment stuffed in various nooks and walkways on the ship. I was told that a good practice was to work out at off times, like 1:30 AM otherwise you could find yourself waiting in line. Ouch. Pictures. I snuck a quick one from the Captain's chair after first asking the Ensign where the Captain's current location was, small element of danger here. The next is us on the flight deck where the helicopters can land. Flag is at half mast since we were there on Dec 7th. Next is us at the Officer's galley, no I am not in the captain's chair here. He sits in the middle despite the movie where Bogart is looking for his quart of strawberries. (Yes, I did a crude imitation here which the Ensign was too young to get) The other guy in the picture is a C5 pilot who we are trying to corrupt, and no, he isn't 17 just looks like it. (Left to right is Mike, C-5 juvenile, me twilling marbles, Dano and Joe) As you can see they made the mistake of telling us they have a slushy machine on board, the last is the souvenir slushy cup. Yes, the young Ensign was pleasantly relieved when we departed the ship, which I kept referring to as a boat.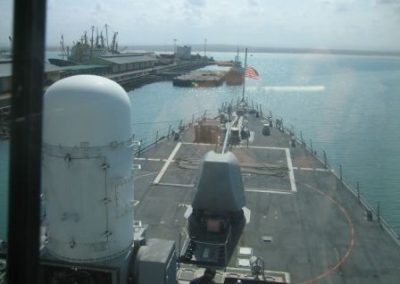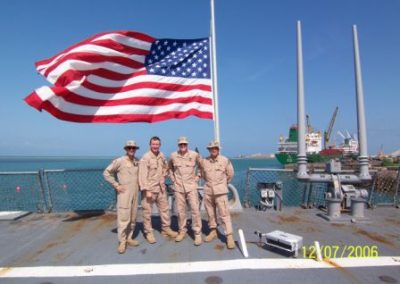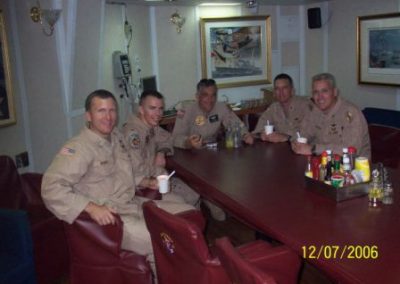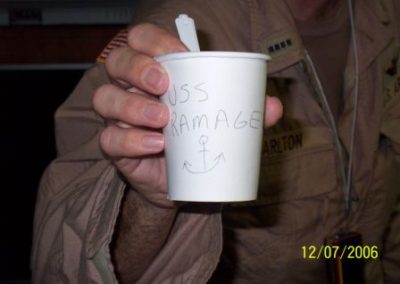 Friday 30 some of us from camp went downtown to the cathedral for the Solemnity of the Virgin Mary. Very few native born Djiboutian' are catholic but there is a large Indian population which hosted the event. We started off with a procession of 200 or so people walking 2 by 2 with a statue of the Virgin Mary on a platform. We were given candles and performed 9 laps around the courtyard while saying the rosary. It took us 2 laps to figure out it was the rosary since it was in French. They also pulled us (only the men) out of line to help carry the statue. Afterwards we had mass outside in the court yard, another first for me. Again it was in French but the Bishop said the gospel and the homily in French and English. (He is Italian and I wondered if his French was as broken as the English). We had several small fires in the pews with us as the younger participates kept their candles still lit and quickly lost interest during the English translations. Nice to see that boys will be boys, no matter which country they are born in. Afterwards they served us dinner which was very good! One of the other C-26 pilots, Mike Redmon, is converting to Catholism and was perplexed, surprised and grateful to see the Bishop enjoying a beer with the Navy Father. He's hooked. (What till he sees Monte Carlo night)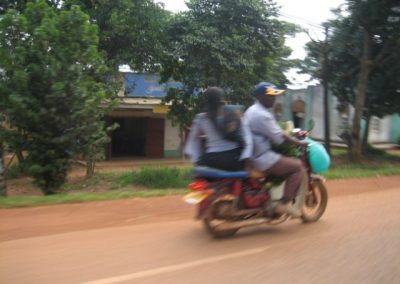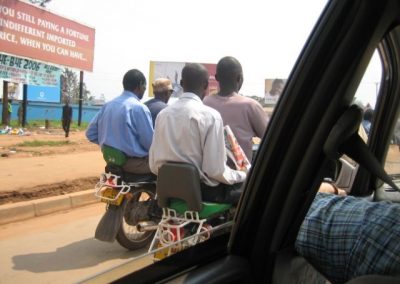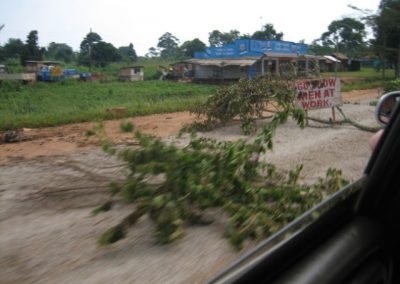 We stopped along the way at a wood carving shop the Embassy guy recommended. Amazing the quality of work they do by hand. In the photo you can see him working on the back part of a chair and to his right is a wall hanging that is about 4 ft X 5 ft. You can see the outline of Africa which they can inscribe your family name and on the outside of it is a bunch of different animals, lions, elephants, giraffes… This piece goes for $60 – $70. Hotel was very nice. In fact, I'd rate this one as the best hotel I have ever stayed in. The hotel is only 6 months old and the service was extraordinary. The turn down service included rose petals scattered at the foot of my bed and they lightly scented my robe with a nice vanilla lilac scent. This is not something you typically hear from someone earning a combat patch. Well, here is the Christmas dinner photo less our 3 wandering pilots. After Thanksgiving and now Christmas, I am curious how they will decorate for Valentine's day. We hope to miss the St Patty's day festivities.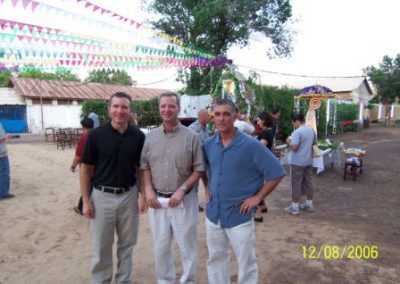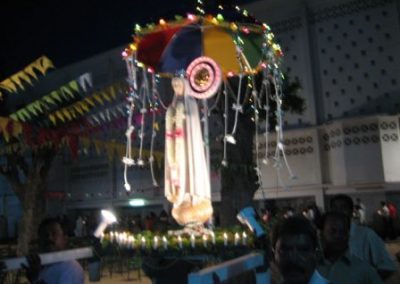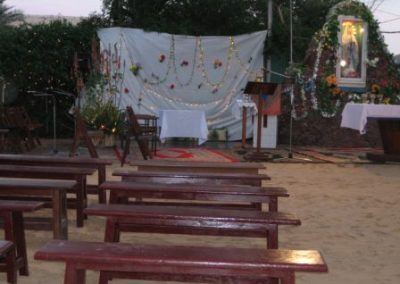 I have received several boxes with Christmas stuff, baked goods, cards, and such. Thank you even though we really don't need anything. I also received some socks that brought back good Christmas memories. As a kid, every year when I would ask my dad what he wanted for Christmas and would receive the same reply, "some socks." When I opened the box and saw the socks, I thought about him. Amazingly enough, I needed a couple pair as mine were wearing thin from the 14 hours a day wearing boots. Hmm, maybe all these years Dad was telling the truth and really wanted socks?? Love ya Dad. See, easy enough to say that in an email, totally taboo in person. It's a "guy thing". OK, that concludes this weeks Hallmark presentation; stay tuned for next week where we may actually have a flying story. Rick C26 Pilot / Safety Officer CJTF HOA DSN 318-824-4617
Sent: Monday, December 04, 2006 3:29 AM Subject: Sun 4 Dec (Sent on Mon, back to my old tricks) All, I was so happy with myself for getting the last email out on time, but alas, the happiness was transitory. I am now certain the Priesthood was never a calling for me, the good folks at St Matthew may not take well to showing up for the 10:00 mass only to have me out front asking them to come back in a couple hours as the homily "just isn't quite finished". It is an interesting musing though. Things that make you go Hmmm. Last trip. Ok, not really, but it was the trip before last. Joe and I headed to Dira Dawa, Ethiopia (Ash, put a star on the map, look south east of Addis) to bring 4 people home who went over that morning in a CH-53. Short 45 minute flight which is a welcome relief to my hamstring after the 4 hour legs we usually do here. (Columbus to Youngstown distance) The airport has a NOTAM (warning) out to watch out for monkeys on the runway, I have to say another first in my world. Just outside the airport terminal (OK, small building people walk through to get to the ramp) they have a small grove of trees with a couple benches to sit on, maybe 100 ft by 50 ft area. We brought bananas based off the previous crew's recommendation and the monkeys that live in the area come up and eat right out of your hand. We had given the manager who files our flight plan some magazines upon arrival and he walked out with us, telling us there are 30 or so monkeys that live in the area. I have to say it was a lot of fun feeding them. Our passengers showed up so we gave the remaining 10 or so bananas to the manager thinking he would give them to the monkeys. Again, our different view point, or cultural background maybe is a better phrase, came through. There were several workers close by that had been watching us and he gave them the bananas to eat. Here we are thinking how cute the monkeys are and we need to take care of them, they look at them as we would raccoons. Most of us, again I have to think of my Mom's attitude, would not feed a raccoon especially when there are people who need the food. Another American social faux pax.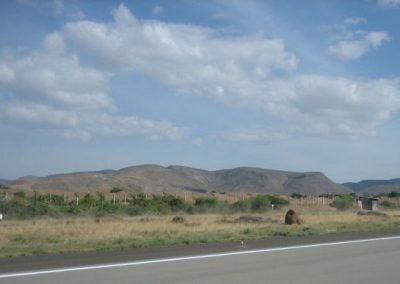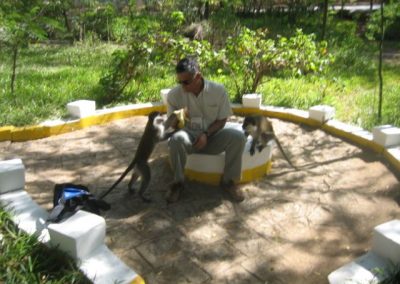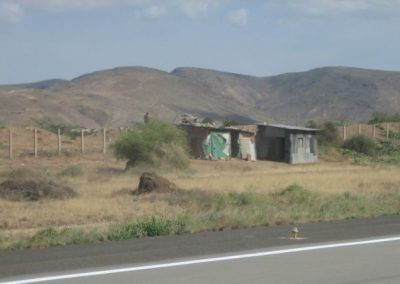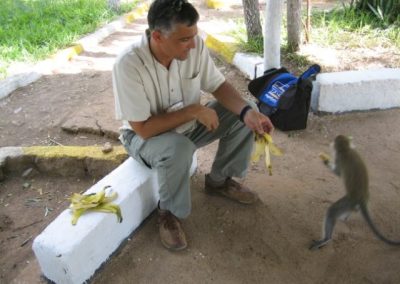 Our December was shaping up to be fairly exciting with 3 good road trips scheduled. Joe and I had a 5 day trip to Nairobi in which we sat on the ground for the middle 3 days waiting to come home. Can you say, "Safari"? Nairobi is the start point for several companies offering 1 day to 2 week safaris, we were definitely in for the 1 day. We'd do the overnight one but tough to explain to the Admiral why you can't bring him home as you are stalking a pride of lions about to make a kill. You have to read this paragraph with a hushed tone, "And now Jim is going to walk into the center of the sleeping lions to get a better picture of the cubs playing. Jim? Jim?" My throwback to "Mutual of Omaha's Wild Kingdom". The mechanics though found something wrong with the plane and want to change the left engine out with a new one. Looks like we are down until 16 Dec. Picky mechanics. What other news? Oh, I got a CLU yesterday. Woo Hoo!!! Maybe that is why I didn't write, too busy moving. I enclosed a picture, it really isn't much but after one night in it I am smiling on the inside and let out a giggle from time to time. Dan and I both got in but the other 3 guys will be another 2 – 3 weeks. We are trying to play it down but the giggling thing does get me a glare from them. It is amazing how nice it is after 102 days (but who is counting) of living out of a toiletry bag and walking to the shower tent to having your own bathroom. Listening to music with ear phones in. Not sleeping with your watch alarm clock under your pillow so as not to wake up your tent buddies. Dressing with a flashlight at 530 in the morning. Must I go on?? Well, I will when I get back home for several months when I am asked to do something, like say take out the garbage. Or at least until it doesn't work anymore.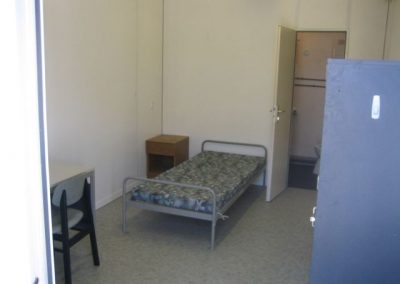 Have a great week. First week of Advent, another Woo Hoo. Take care, Rick C26 Pilot / Safety Officer CJTF HOA DSN 318-824-4617
Sent: Sunday, November 26, 2006 1:47 AM Subject: Thanksgiving in Africa Family and Friends, Another week completed! I hope everyone had a great Thanksgiving and a safe return home if traveling. They authorized civilian clothes for us starting Wed night 5:00 pm to Mon morning 7:00 am when not on duty. Really nice to get out of the uniform for a while however most folks don't have many non-military clothes to wear, especially for 4 days in a row. "Honey, I am going to war", said the Navy Seal in a stern yet concerned voice, "Have you seen my silk Hawaiian shirt?" Ha. Since we fly in "civies" most of the time, we were OK but of course now I have to deal with the guilt of being out of uniform when the hard charging troops aren't. Guilt passed quickly. The KBR folks (contract civilians who run the dining facility) went all out to make the Thanksgiving meal special, they even dressed up in costumes.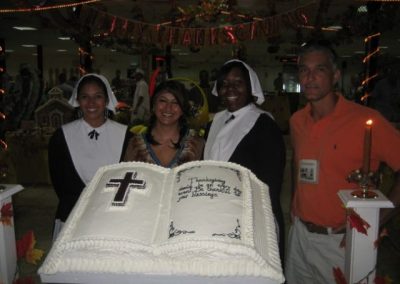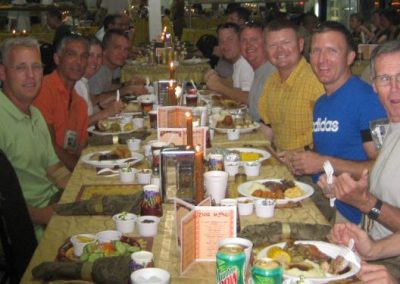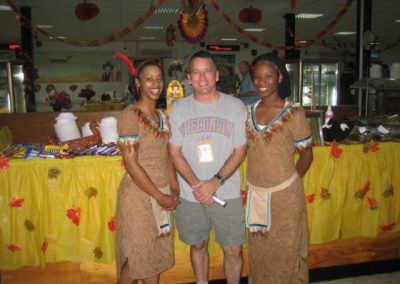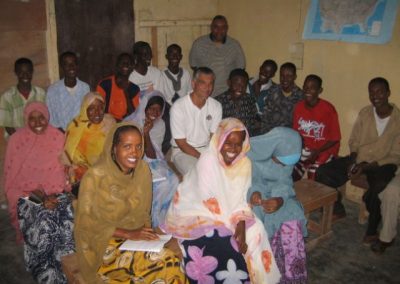 Too funny being served by Indian girls and Pilgrims. The guy to my right in the lime green shirt is Joe Barber who I mention frequently since we fly all of our missions together, he doesn't always have that sleepy look but the turkey is kicking in quickly that day. Really appreciate the effort and thanked as many as I could. The last picture above is Dano who isn't really a Wisconsin fan and graduated from OSU. Still not sure why he is so happy, he must like Thanksgiving. Behind him to the right is what we refer to as a "pie safe". They keep all of the deserts there and you can go up and get as many as you wish at every meal, 7 days a week. Directly behind him is the ice cream counter where they will serve you any of 6 flavors, again as much as you want. You don't even have to eat all of your dinner. These are 2 areas I struggle to avoid on a daily basis. English Discussion Group. This is an activity that runs 4 days a week in the evenings in which 6 soldiers go to a local school in town to help students learn English. I finally got the nerve to volunteer and went out Wed night before Thanksgiving. The students were 16 – 22 years old, 18 in the class with me. (3 soldiers per group) This is a "private" school that the kids or parents are paying for and the one we visited has 300 or so enrolled. That night there were 6 classes in session and I think the kids attend twice a week. Very very poor area we went to with tin shacks and dirt roads. I wanted to get a decent picture but it was already dark, sun sets around 6:15 here. The rooms were partitioned off with sheets with a few walls here and there. They pick a topic but the main idea is just for them to speak with us in English and hear the way we speak in return. For most of them, this is their 3rd and 4th language. Everyone speaks at least 2, Swahili and French. Many more speak Arabic and English. Pretty amazing. I don't think the picture gives the place justice as it really was a dump. Their first elected president recently died who started the democratic government (they are only on their second president) so the topic was how would their lives change. This was a little far reaching as a conversational topic and we switched it to "what would you do if you were president". I tried to keep my responses non-political and non-committal as they would frequently try to get our opinions. It felt very much like every political discussion I had with my Mom. The women do not cover their faces here (every now and then you will see one who does) but they were shy at first to respond. The one in the front left was fairly open and blasted the guys a couple times, nice to see but not the norm yet. I will go on future trips but on different nights to see the other "schools". Again, I would equate this more to a Columbus State continuing education type course. God Bless and Go Bucks! Rick
Sent: Monday, November 20, 2006 4:46 AM Subject: Sun 19 Nov (Go Bucks) Hello all, It has been a strange 2 weeks here in Africa. First, the CLU list has movement. I am at #5 on the list now and should be moving soon. The other 5 guys range from #4 to #24. Since 3 of us flew the plane over and arrived 3 days sooner, we are higher on the list. It will be weird packing up and leaving them in the tents, but life is about sacrifices and I am willing to make this one but I will pretend to miss them. Kind of a slow month as we have several long missions scheduled and only a couple same day flights out and back. Joe and I headed out for the first time on the 16th -for a 3 day trip. Almost embarrassed to talk about it as we went to the Seychelles Islands. This is an island chain 1100 miles off the coast of Africa in the Indian Ocean or about 8 hours of flight time and a fuel stop for us. A tropical depression had formed but was breaking up the day prior to the flight which is a slight concern as the last 4 hours are over water with little divert fields. OK, Madagascar is an option but you have to make that decision 2 hours into the flight. We checked the weather several times to include from the satellite phone from the plane with assurances the system was holding away from our destination. 1 hour out we start getting our first look and can see the storm on the horizon that sure enough was tracking towards the Seychelles. We held for 45 minutes waiting for the weather to pass and became slightly excited when we had to find a weak spot to pass through as the storm continued to track to Africa. My comments about the movie "Castaway" with Tom Hanks weren't well received and in hind sight realized that even though we were bringing cargo to the Seabee's I doubt we had any ice skates on board. How would we ever get the coconuts open? Our lone passenger was a young Seabee that drives a bull dozer, she was in the back yelling "Yea Haw" and holding her hands up like a roller coaster attraction, help me. Oh yeah, we lived. They have a small Seabee team of 12 on one of the smaller islands that is building a clinic and rehabbing the mortuary however the runway there is too small and we have to go to the larger island to land that is a European vacation spot. Drag. Our mission was to bring a bunch of cargo down and return with 3 passengers with the middle day for crew rest. Several of the team met us at the airport to unload their cargo and spent that night at the hotel with us. Over dinner we talked of their mission there and they had some pictures to share on their camera. It is obvious the island they are on is very poor and the team is living on cots in an abandoned psycho wing of the hospital. They work 12 hour days, 6 days a week and take breaks during the day to play soccer with some of the kids. Twice a week a local fisherman brings them a catch of the day and they grill it. Good stuff! The hotel was very nice and set up in bungalows with a pool overlooking a nice beach. The crowd was older and we didn't see any kids at all the day we spent at the pool / beach. In fact, for the most part everyone there was 15 – 20 years older than Joe and I, but still held to the European philosophy of what is appropriate beach attire. The ladies who look like they would be very comfortable making cookies for their grandkids in a cozy aromatic kitchen were of course topless and their partners for the past 30 years were sporting the Speedo bathing suits. I didn't see anybody actually swimming laps in the pool, except for Joe and myself whose "Speedos" come to our knees. The phrase, "When in Rome" never came up. We returned with out incident on the 3rd day landing 3 hours before the kickoff. Even though the game kicked off at 1130 PM here we all stayed up and watched it. Well 2 guys had a mission in the AM and had to pass John and Rodger. We have a gator to drive on camp and ordered OSU hard hats to wear. We also have an OSU flag hanging in our ops tent, looks like we can wear it with pride as numerous closet Michigan fans raised their heads in the last week. I suppose it is time for them to go back into the darkness. I ran into a Wisconsin fan who thinks OSU is lucky we don't play them since they are 11-1, with gentle inquisitiveness I inquired with whom their lone loss was to, Michigan perhaps? Thanks for the numerous boxes of supplies I have received with stuff for the orphanages here. I also appreciate the books, DVD's, and other items as do the other guys. I built a bookcase last week with Rodger and the place is really looking nice. Soon we will start putting up Xmas decorations, I just as soon not. I get the feeling this place will be difficult to bear over the next 5 – 6 weeks. The follow on group is from Little Rock, Arkansas and I think they will be pleasantly surprised with our improvements, however, I fear they may not like the hard hats! Take care, Rick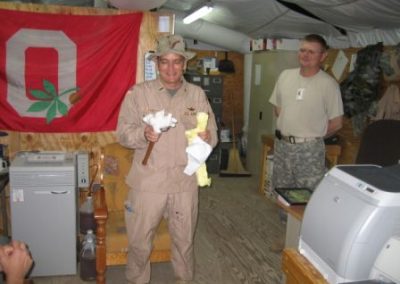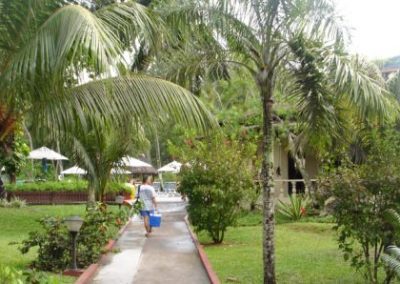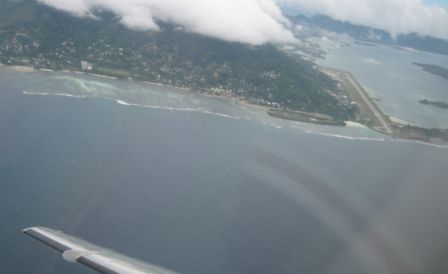 I almost forgot the photos. First is of Dano celebrating his B-day with us. The club I gave him is a typical weapon carved with a ball at the end. I don't know how that Beanie Baby seal got taped to the end. (Sorry Amy, I won't do it again). The second is the view of the runway on departure, this is not a place you want to land long! The "Hotel 1" is me heading off to "work" on our middle day on the island and the last 2 are of this fabulous church we found on our way to the market to get some mixer. Ahem, I mean orange juice.
Sent: Tuesday, November 07, 2006 4:56 AM Subject: Sun 5 Nov Hello, Another exciting week completed in Djibouti. We did have substantial movement on the famed CLU list and #11 is now the mark. Thanksgiving is looking better all the time! Kinds of a slow week as a few of the missions were cancelled. Since every flight needs Diplomatic Clearances from several different countries so a cancelled mission means more down time. Joe and I did have a nice day mission to Nairobi and back. Unfortunately the Admiral was delayed and it turned into night mission. We did learn an interesting tidbit, unlike the states where thunderstorms dissipate after the sun goes down, here they build in intensity and at midnight were quite spectacular. Pilots love thunderstorms almost as much as passengers who grade our landings. Luck was still with us though as we were deadheading so no witnesses to us hugging each other. Uh, never mind. Fri morning 4 of us headed to the local "Wal-Mart". I was in search of some scarlet and gray spray paint to "fix" the hard hats we were when driving the gator on camp. They had 7 colors, but alas no Buckeye love. One of the guys here is scavenging and the Buckeye Corner is sending some Buckeye leafs, all we need now is to when the Big Game. Very nice of the Buckeye Corner, the fact we are deployed to Africa and a credit card was instrumental in them offering to send them.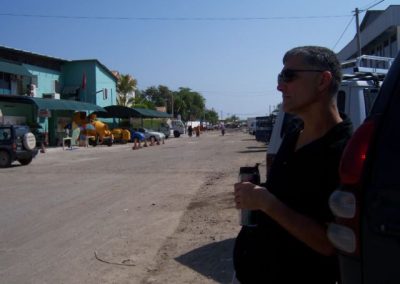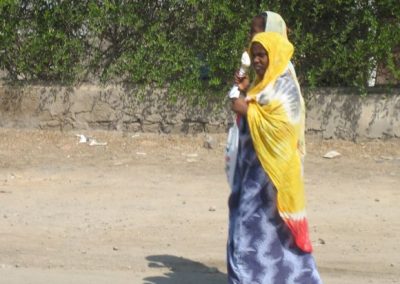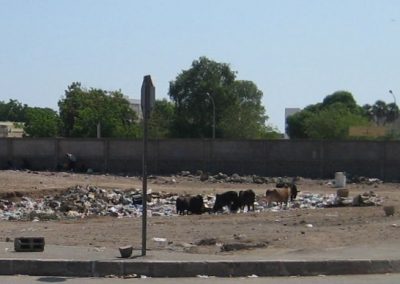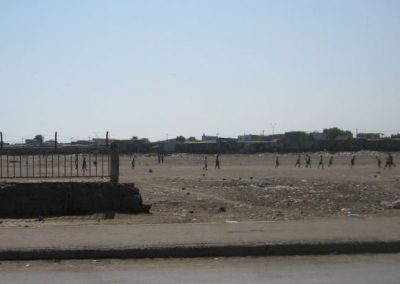 Pictures. First, DJ on the caption stands for Djibouti. The first photo is a picture of the front of the store and to the left of the opening to the store is an ice cream booth. I saw a couple young girls getting some but thankfully I was able to control myself. As you can see in the next picture they weren't too happy about me taking their picture. I was 50 feet away and trying to be discreet, but my James Bond training failed me yet again. I say "thankfully" I refrained from getting some as the 3rd photo shows some local cows. Mind you, this is in the middle of town and is an empty corner lot with the cows "grazing" in the trash. We also saw some goats doing the same thing further down the road, so regardless of the type of milk you get, it could have a strange twang to it. The last picture is one of the numerous local soccer fields. This one is a huge field that has 6 or so makeshift fields with games going on each one. It was a holiday which is probably why so many kids were out playing. Take care, Rick
Sent: Monday, October 30, 2006 6:50 AM Subject: Addis, Ethiopia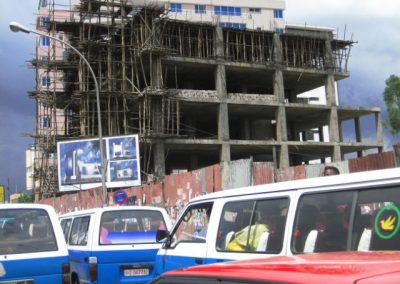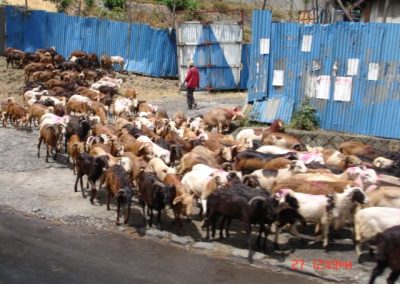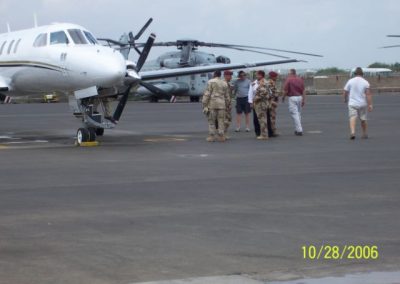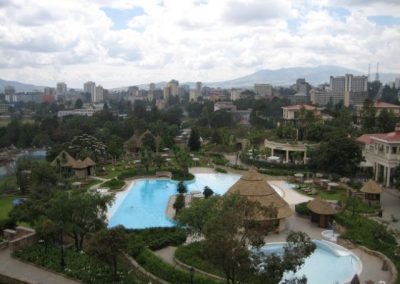 Hi. No movement at all on the CLU list for better sleeping quarters, but the "Donut of Time" is at 33% completed mark. Woo Hoo. We had a busy week here and the schedule board is pretty packed for the following 3 weeks. Another Woo Hoo. Joe and I had an overnight mission to Addis, Ethiopia. We transported the Ambassador of Ethiopia here for an event and after dropping her off, immediately turned the plane around to Yemen to pick up several senior Yemen military members to include the Minister of Defense for Yemen. First, I'll start with Ethiopia. We had a passenger to bring over and arrived at the Addis Sheraton early afternoon. This is a very nice hotel billed as a 5 star. 2 of the pictures I attached were from the drive to the hotel. I saw similar construction in Nairobi were they use sticks as scaffolding to support for the floor above. Difficult to see in the photo but the sticks on the top floor are wedged so close together it would be difficult to walk in between them. Our Embassy driver assured us this was a normal building practice. The herd of goats was just off a busy road and I felt fortunate to get the picture taken as we zoomed by at break neck speed. Our Embassy escort was from Kansas but had mastered driving like a local in the 7 short months with only 3 accidents and 2 dead goats. Seriously, he had 2 goats stray from the herd requiring a reimbursement to the owner of 200 Birr and 2 bottles of wine. Again, the hotel was very nice with granite bathrooms, 5 restaurants and massages on site for 200 Birr. (About $18) Joe went for the massage but I ended up canceling my appointment as I made the mistake of heading out to pick up some local coffee to ship home. (With all the running around Vicki is doing I figured this was an excellent gift) The one thing I hadn't noticed about Nairobi that became apparent quickly was the begging on the streets. During the 5 minute taxi ride I had several 4 – 5 people approach the cab for money which the driver would shoo away. I also noticed several amputees on the street. Leaving the coffee shop a young women with a baby strapped to her back approached me who was missing an arm. Since I had my massage money in a different pocket (I only exchanged a small amount of $$ for the day) I gave it to her. When I get home maybe I'll opt for my first massage for 10 times the price. The real joke is on Joe though as they were short staffed and he had a guy do his massage. Thoughts of a Seinfeld episode would be appropriate here, and yes, Joe plans on writing. We ended up eating at one of the hotel's restaurants since we had a 3:30 Am wakeup. Probably a good thing as we may have given our dinner $ away if we headed off campus. The Ambassador was very nice even though we had to do a 600 am launch to have the Yemen VIP's there by 1100 am. Very little to say about the Yemen trip as we were only there for 40 minutes. Difficult to get a diplomatic clearance into Yemen and previous missions have cancelled due to the clearance not being approved at the last moment. While paying the landing fees (we carry a large amount of cash as they will not take the government visa) I did see my first true Muslim woman. She was behind this plastic window and was covered head to toe in black less her eyes. I tried to not stare but it was a little unnerving. The Yemen Passengers (all men of course) were very excited on the plane and chatted loudly the entire 1 hour flight. I should have turned around and snapped a picture, seriously doubt I ever have 6 Yemen Military folks on board. Annette (our sole NCO) visited a local school this morning. They had 4 classes in session of 25 or so in each. There were a bunch of kids outside the gate looking in but she was told they are in the other session. It is now required to attend school until age 16 (used to be 6 years) and they had items to pass out for each kid. Vicki had sent me several boxes of beanie Babies which I gave to the Priest a few weeks back. The younger class received these babies and I gather loved them, kind of nice to know where they went. I have received several boxes of charity items and given them to Fr Cain. Mostly toiletry items which he sends to the girls & boys orphanage. He did say the baby orphanage is pretty well resourced by the French and has a high adoption rate from the same. The boys orphanage is not as well maintained and the Seabee's on camp have a fund raiser going to help. The navy guy I spoke with tries to visit 2X a week. They have 25 – 27 boys there from 5 to 18 years old who sleep on the floor. The $$ being raised will be to purchase beds and fix up the latrine which is in pretty bad shape. He suggested any type of clothing, shoes or other items young boys may like. No information on the girls orphanage as the new director has stopped the visits temporarily until she gets a "handle" on things. Doubtful I visit the boys orphanage, but then again maybe they'll let me coach a soccer or baseball game. My luck they play cricket. Yes, every hotel I have been in here cricket matches have been on several channels. From what I can tell there are more than just 2 teams, who knew? OK, I have to go play Halo 2 now on the Xbox. Chances are I loosen the family rule a little bit when I get home so I can whack Cameron around. Until he gets better then me and the no "T" rule is back in place! Rick
Sent: Monday, October 23, 2006 11:27 AM Subject: Another Sunny Sunday / Monday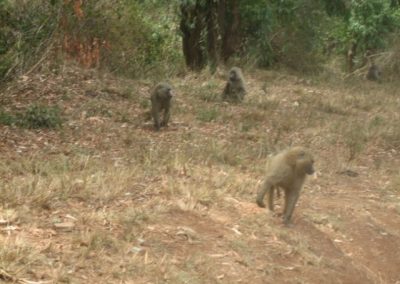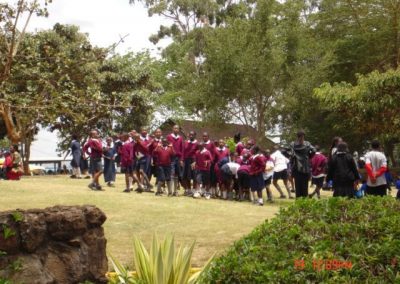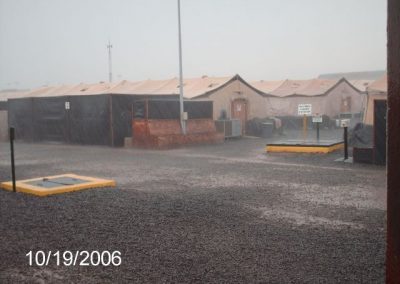 Well, the CLU list is #17. (#18 last week) In case you've forgotten this important acronym, it stands for Container Living Unit as opposed to TWITGTTAS acronym. (Tent Walking In The Gravel To Take A Shower). I started out at 68 and felt pretty good about how fast I was dropping, apparently the folks in front of me like it here and aren't rotating home. Weird. To go with a different # and one that does actually move, we are up to the 30% completed mark. RAIN! We had an exciting AND busy week here in Africa. First, it rained on Tue and I included a picture to prove it. Like Florida, 10 minutes later it was sunshine and 95 degrees. I briefly considered having Vicki send rain gear, but in retrospect imagine I can wait 10 minutes wherever I happen to be. Joe and I had an overnight mission to Nairobi, Kenya Wed and Thu. This is similar to flying from Columbus, Oh to Denver, Colorado to include the higher elevation of 5300 feet. Although we arrived at 1130 PM and left at 600 PM, we did have 3 hours or so to site see. Our Embassy driver, Robert, was very informative and took us to the site of the Embassy bombing in 1998. They have turned it into a memorial as 219 people died. Although a much smaller scale, you couldn't help but think of the World Trade center. Monkey off road. We then ran into a troop (someone correct me if "troop" isn't correct, I could have went with the term "barrel" also) of monkeys on the side of the road, pulled over and took several pictures. One Mom had a baby holding on for dear life under her belly, too cool. School kids. We also made a short trip at a wildlife park with numerous school kids present on field trips. All of the kids wear uniforms to school either being the sweaters you see in the picture or blazers. In fact, most of the people walking around downtown are very well dressed in suits. Odd seeing a man in a suit with a "blue tooth" ear phone talking on his Blackberry next to an old rickety cart being pulled by a donkey. Nairobi Tourist Trap. The last picture is me with an uncomfortable smile holding hands with 2 guys at an African tourist trap. The only thing missing is the "big ball of twine" in the background. Robert must have felt we needed to this to round out our experience. I must pause a moment and explain the situations I describe for myself at the camp or on the road are not typical for soldiers here. On the camp most soldiers do not have their own laptop with separate monitor, desk with dedicated phone line for their use or a 42″ plasma TV with Xbox. (Previous pilots spent lots of the own $$ for me to live in the manner I have become accustomed) They have to visit the MWR tent (Morale & Welfare), wait in line for a phone or computer and restrict their use to 20 minutes. This of course is only during their off time and not when they decide to take a break as in my case. The ones who do go "down range", do so to construct hospitals, schools or dig wells at the various countries in our Area Of Responsibility. Their living conditions are much better here at the camp even though most tents here have all bunk beds filled and their shower tents have a line most of the time. We do not share pictures or stories of the nice hotel we stayed in while flying to different locations. On to another serious note, we were warned in our briefings at Ft Benning that changes would occur on the home front and we should be prepared for such. Of the 6 pilots, 2 families have acquired a new dog in each house, both being the small "rat" type. (Nothing derogatory meant by that term) Another was threatened with 2 kittens. Apparently these guys have absolutely no control in the house! Vicki, please do not take this as a challenge to what animal you can obtain, unless you can find something to "happen" to the mean cat we currently have that likes to bite people who have the nerve to attempt to pet it. Little windy today. I'll buy the wings Wed Mar 14th at BW3's to make it up. Rick
Sent: Sunday, September 17, 2006 12:56 AM Subject: Sunday In Africa Friends, In an effort to keep my spamming to a minimum, I think I'll go with a once a week update. Unless of course I get really bored and go to the hourly option. I really appreciate the emails I have received thus far. It really is nice to hear from you even if I don't respond right away. I received one asking 20 different questions about what is going on here so I'll attack some of those in this update. First, my comfort. I am up to #40 on the CLU (container living unit) list, yeah! I started off at #68 on 6 Sep. I understand moving 28 spots in 12 days is somewhat meteoric. They actually post the names so I may find those on the list ahead of me and begin the bribe, cajole, swindle process. Second, my safety. They found an asp (really friendly nice to pet snake) a couple days ago. This gives me something else to worry about while searching out the facilities in the middle of the night, another reason for "Rick to get a CLU". Something of a motto I am developing. The camp runs 7 days a week with Fri and Sun designated half days. Half days the offices hours are noon to 8:00 pm, regular days 0730 – 8:00. We don't all have to be "manning" the tent during that time but someone has to be present. Since we typically fly the Admiral (Navy is in charge currently, he replaced a Marine guy 5 months back) it is fairly visible if we blow that rule off. I still haven't quite gotten into a routine. So far I have been hitting the 5 mile running trail around 6 am, showering, eating and getting to the tent by 715. Most days I have hung around until 730 – 800 at night. Not a lot to day in my 6 X 8 tent space (or CLU for that matter). Once I feel caught up, on non-flying days I'll work out during duty hours when all of the soldiers are working. The gym gets pretty crowded before and after work. Hey, just like Lifetime Fitness! When I do run outside I'll need to go early until the weather begins to break. As I write this at 930 am it is 105 so I am not sure when that will be. Unless we are working out we are in either our flight suits or the army camouflage uniform. We can wear civilian clothes for PT so I asked Vicki to send me a couple of my OSU T-shirts. Usually when we fly I'll be in civilian clothes, docker pants and a polo shirt to help us blend in. The guy I fly with usually (Joe Barber) is Swedish looking so if I just step 10 feet or so away from him I should be fine… Always remember, you don't have to be faster than the bear, just your buddy. Currently we don't have to wear our flack vests and helmets on camp. I have scouted out all of the bunkers in the various areas I operate at in case the "big voice" comes out with a warning. Hopefully I don't knock a marine over who is running in the other direction. I have already determined if I am running the same direction as them, I need to turn around. Food. Actually pretty good. What they lack in quality they make up in quantity. The camp is contracted out to a company called KBR (Kellogg, Brown and Root) who run all of the admin stuff like billets and food. When they aren't serving you can go in to get coffee, Gatorade, fruit, chips and some other snacks. They have several TV's so there is always someone in there taking a break. Milk and cookies before bed is an option. I took the plane out yesterday for a test flight. Mechanics made a couple minor adjustments which we needed to verify. This was my third time in the local airspace and I am almost sure I understand 75% of what was said. You can almost smell the doubt in the cockpit after a radio transmission. Luckily they are patient with us. My next mission isn't until next week so I have 11 days or so until then. It does appear the flying schedule is beginning to pick up as everyone assures us they have never seen it so slow. Really pretty area as it lies on the coast, very depressing when you fly over the town and see the shacks the people live in. The chaplain is actually a Catholic Priest (woo hoo) who sponsors a trip into town weekly to visit a couple orphanages for babies, boys and girls. You may have seen the girls one on the CNN interview that aired a couple days ago. I don't think I'll make that trip anytime soon. Take care, Rick
Sent: Tuesday, September 12, 2006 2:14 PM Subject: Greetings from Djibouti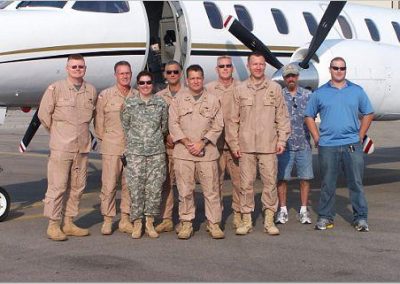 Hello All, Well, I made it to Djibouti. We left Ft Benning 31 Aug and arrived in country 6 Sep. On the way over we (3 of us flew the plane, the rest took a "rotator" flight over) stopped at Goose bay, Canada; Sondrestrom, Greenland for gas and spent the night at Keflavik, Iceland. From there we flew 3 hours and spent the night at Prestwick, Scotland followed by another grueling day of 3 hours to Stuttgart, Germany. Next was Souda Bay, Greece and the final day we stopped for gas at Luxor, Egypt and then here. Needless to say we didn't have a burning desire to get here to quickly. Because of time changes each day we typically rolled into the airport about 5:00 pm giving us enough time to check into the hotel and get dinner. I really enjoyed the cab driver in Greece. It was a 20 minute ride and he gave us an indepth history lesson of Greece and why the Greeks are the best people in the world. I now know that Greeks have invented everything important. he was only missing the bottle of Windex. (think of the movie "My Big Fat Greek Wedding".) The first few days have been a whirlwind of activity. We take the mission over from Colorado so they are very eager for us to learn everything so they can depart. Half of their unit left on Sat and the last 3 will fly their plane home starting Friday. Hard to believe this, but they won't take so long to get home as we did to get here. Ha! I flew my first mission to Ethiopia Sun but unfortunately the schedule is a lighter than it has ever been and I don't get back up until 28 Sep. That one should be a good one though as it is 4 days long. The people were very friendly but it is weird flying here. it is almost like I am in a foreign country. Weird. Living conditions are OK. We are in a tent right now that has 8 "bays" on each half. They have a 3/4 divider wall to give some semi-privacy. In 6 – 8 weeks or so I should be able to move into a CLU (Container Living Unit) which is basically a trailer split up into small 8 X 8 rooms. So for now, the motto is "I don't have a CLU!!" The toilet facilities are also in these type containers spread out through the camp, another good reason to get a CLU as it has it's own. Everything you do is difficult to get done which we take for granted at home. Even brushing your teeth is a semi-challenge since the water isn't drinkable so you have to use bottled water to rinse. Showering is easy to figure out since you only need to turn one faucet. Since it never gets below 90 at night, the cold water label is misleading! They do have bottled water every 50 feet or so outside and I drink 7 – 8 bottles a day. My calls to Vicki are always limited to a max of 20 minutes as I go to go pee. I have become an 80 year old man in that respect. Weather should be getting better for us, yesterday it was only 98 as a high. I went for a 4 mile run today at lunch without checking first, today it is 113. Needless to say I walked the last half mile. We only have daylight though from 5:30 AM to 6:20 PM each day. This doesn't vary much throughout the year as we are so close to the equator. After dinner I usually go back to the ops tent and it is always unnerving how in 20 minutes it gets sooo dark. (again the 20 minute deal) Food is OK but they make up for it in quantity. I need to get into a work out routine quickly or I may have a weight issue in the plane! Take care, Rick