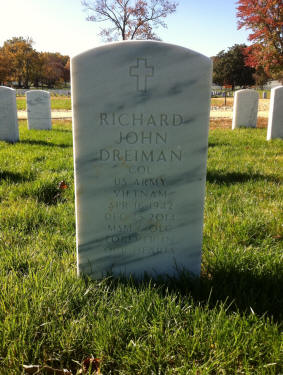 Richard "Dick" John Dreiman
Dreiman, Richard J. age 72, Born April 16, 1942, passed away on December 25, 2014. Buried at Arlington National Cemetery, Section 55, site 2857

Dick was born in Riga, Latvia in 1942. He was a war refugee in an internment camp in Germany where he attended first and second grade. His dad found his mom and him in the camp after being separated for three years. A church in Canal Winchester Ohio sponsored his family's immigration to the USA in 1949. He spoke no English so they set him back a year to first grade. He put himself through OSU by working for Corna Construction and completed ROTC. Upon graduating from OSU he completed flight school and served as a Cobra pilot in Viet Nam where he was assigned to D Troop 3/4 CAV (Air) 1969-70. While serving in Viet Nam, Dick was run over by a 2 &1/2 ton truck while in a bivouac area. Dick spent more than a year in hospitals recuperating from the accident. While In the Ohio National Guard, Colonel Dreiman served as US Property and Fiscal Officer and as the Assistant Quartermaster General.