George Dana Kinney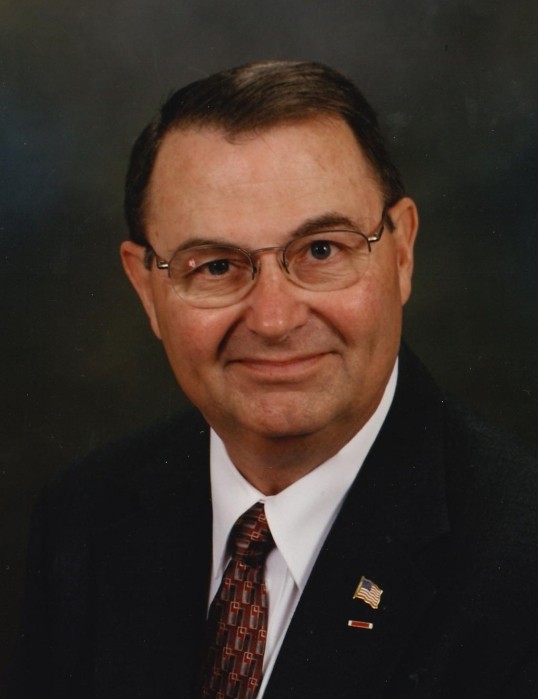 George Dana Kinney, age 72 of Lake Waynoka, Ohio died Tuesday, January 26, 2021 at the Anderson Mercy Hospital in Anderson Township, Ohio. Mr. Kinney was a Soldier for thirty-one years in the United States Army, a Vietnam War veteran and was discharged from duty as a  Lieutenant Colonel. He then was employed by the State of Ohio for ten years at the Sandusky Ohio Veterans Home and later became the administrator of the Ohio Veterans Home in Georgetown, Ohio. George was a past Commander and member of the Carey Bavis American Legion Post #180. He had a great passion for the outdoors and loved to hunt and fish. He was born January 21, 1949 in Ironton, Ohio the son of the late George Edward and Doris (Murphy) Kinney. He was also preceded in death by one sister – Kathleen Kinney and one brother – John P. Kinney.
Mr. Kinney is survived by his wife of fifty years – Elvira (Bippig) Kinney, whom he married April 6, 1970; one son – Lee Edward Kinney and wife Therese of Washington; one daughter – Anna Maria Collup of Lake Waynoka, Ohio; four grandchildren – Hailey Van Meter and husband Jaqui, Hoss Collup and Hope and Luke Kinney; one sister – Ann Egan and husband Mike of Virginia; an uncle – Sonny Murphy and wife Darlene of Florida and nieces, nephews and cousins here in the states and Germany.
Following cremation, a Memorial Service will be held at 1:00 P.M. Monday, February 1, 2021 at the Cahall Funeral Home in Mt. Orab, Ohio. Chaplain Bill Graybill will officiate. Visitation will be from 11:00 A.M. – 1:00 P.M. Monday at the funeral home. Military Honors will follow the Memorial Service provided by the Carey Bavis American Legion Post #180. During the visitation and Memorial Service, social distancing will be observed and facial coverings will be required.
To send flowers to the family or plant a tree in memory of George Dana Kinney, please visit our floral store.
——————————————————————————————————————————————————————————————————–
Tributes from fellow soldiers.
———————————————————————————————————————————————————————————-
One of the things in George's record of accomplishments that you might not know about is that he was the first Director of the Ohio Veterans Home In Georgetown, Brown County, Ohio. The home was built in 2004. He did a terrific job in hiring a staff from scratch, and getting the building ready to serve Ohio Veterans. I was a member of the Ohio Veterans Home Board Of Trustees at the time, so I had the privilege of watching George bring that Home into a functioning reality. He served the resident Ohio Veterans very well! Steve Martin
———————————————————————————————————————————————————————————————————-
George asked for a static display UH-60 at the Georgetown Ohio Veterans home in conjunction with an event they had going on there. He called me and asked if I would fly it. I did and after the program George took us on a tour of the facility. George was well known, loved and respected by the residents and staff. He knew their names and their military history. I am so very thankful that I had the opportunity to visit him as well as the residents of the home. Rich Burke
———————————————————————————————————————————————————————————————————
Yeah, my buddy George has moved on…he was excited to be getting a new hip so he could get back out into the woods again. Spoke with him about a week ago about the surgery and he was really upbeat about renewing some of his favorite activities once his hip was fixed.
It appears that some problems surfaced in post op, and he was struck with heart attack. Trouble stabilizing him, then shift to life support. Elfie got a call that George had passed.
George had touched a lot of lives in his time, and tried to be a military professional throughout his life. Our bear hunting trip to Maine some years ago with our other friend Ralph Green was the source of hours of fun and laughter…like most of our excursions over the years. He was a good guy…I will miss him!
There is some planning going on for a memorial service…I think the family will reach out to folks when they have an event developed.
Thanks for all the great comments and "that f…ing Kinney" stories.
Labs
Robert J. Labadie
COL, USA, Retired
————————————————————————————————————————————————————————————————————
I followed George as the Assistant Chief of Staff. Definitely the most entertaining transition I've ever had into a new job.
He was one of a kind.
Major General John Harris
The Adjutant General, Ohio
————————————————————————————————————————————————————————————————————
Sad to learn of George's passing. Those of us who knew him will always hold a special bond with him. May he Rest In Peace!
Ken Robinson
————————————————————————————————————————————————————————————————————

I am saddened by the loss of my friend. He was a dynamic person who loved the Ohio Guard and served with honor. A true soldier first, last and always. Rest in peace my friend. Jim Wilder
————————————————————————————————————————————————————————————————————
God speed George. A fine soldier and great guy. George's father was one of the Army Rangers who scaled the cliffs below Pointe du Hoc between Utah and Omaha beaches on D Day. George came from good stock. Jim Chisman
————————————————————————————————————————————————————————————————————
RIP you ole gun fighter George. Joe Spielmann
————————————————————————————————————————————————————————————————————
Remember him well…An ornery Ordinance officer and gentleman.  RIP. Richard Bedard
————————————————————————————————————————————————————————————————————
RIP George.   Thank you for your service. Don Nelson
————————————————————————————————————————————————————————————————————