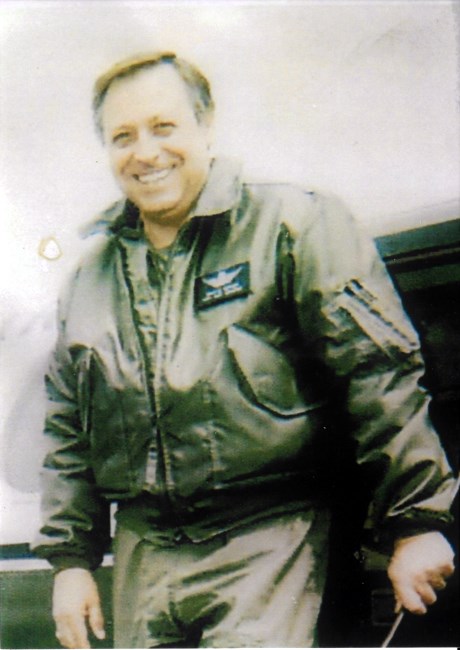 Dale Ervin Taylor, who hated the name Ervin, was born on March 4th, 1935 and passed away at the age of 85 on December 24th, 2020. A resident of Oviedo, FL, Dale is survived by his wife Thelma, his 7 children, 16 grandchildren, 9 great-grandchildren, and his sister, Virginia Wotring.
Dale began his career as a race car driver in high school, but decided to join the Ohio Air National Guard in 1952 in order to fly jets. He later transferred to the Ohio Army National Guard to become a helicopter and fixed-wing aircraft pilot. Dale loved to fish on Lake Erie. He loved to golf. But, more than anything, he loved to fly! He retired from the military on March 4th, 1995. His flight career was extensive, having also worked in the private sector for Asplundh Aviation and then for Bell Helicopter Textron until the late 2000s, accumulating over 30,000 flight hours. He was an accomplished pilot and salesperson and established relationships with everyone he met, including Celine Dion, Greg Norman, Nick Price, Paul Tibbets, Neil Armstrong, Flippo the Clown, and many others.
Dale was a member of the Secret Order of Quiet Birdmen and honored as a Kentucky Colonel in 1978. He was also awarded the Army Commendation Medal in 1986 for landing his aircraft safely, during a blizzard, even after his aircraft had sustained extensive wing damage and an engine fire. His skill saved the lives of all onboard.
Dale was always kind, funny, forgiving, and never complained to others. He was cherished by his family, respected by his peers, and most of all, he was loved by all who knew him. Even though he spent many hours in the air, Dale remained grounded as a father and a friend. He will be forever missed.
A celebration of life will be announced at a later date in 2021. Memorial contributions can be made to the Alzheimer's Association at http://www.alz.org/ or to the Gary Sinise Foundation https://www.garysinisefoundation.org/
"High Flight"
Oh, I have slipped the surly bonds of earth And danced the skies on laughter-silvered wings; Sunward I've climbed and joined the tumbling mirth Of sun-split clouds…and done a hundred things You have not dreamed of … wheeled and soared and swung
High in the sunlit silence. Hov'ring there, I've chased the shouting wind along, and flung My eager craft through footless halls of air. Up, up the long, delirious burning blue
I've topped the windswept heights with easy grace Where never lark, or even eagle flew. And, while the silent, lifting mind I've trod The high untrespassed sanctity of space Put out my hand and touched the face of God.
John Gillespie MageeJr., R.C.A.F. (killed in WWII)